HOCHTIEF Share
HOCHTIEF went public in the early 1920s. Today the shares are listed in the Prime Standard of Deutsche Börse and can be traded across all German stock exchanges. HOCHTIEF shares are a constituent of the following main stock indices: MDAX, DJ Sustainability World and FTSE4Good.
Key data
| | |
| --- | --- |
| Type of shares | Bearer shares |
| No. of shares | 77,711,300 |
| Share capital | 198,940,928 EUR |
| Market capitalization (Dec 2022) | EUR 4.0bn |
| Average daily trading volume (2022) | 87,517 shares / EUR 4.9m |
| ISIN | DE0006070006 |
| Voting rights | Each share entitles the holder to one vote, no voting right restrictions |
| | |
Share Price Chart
Our share price chart is an interactive tool for viewing and analyzing the performance of HOCHTIEF shares.
Analysts
The following is a list of banks and securities dealers who regularly evaluate and give recommendations on the HOCHTIEF share.
| Institution | Location | Analyst |
| --- | --- | --- |
| Bank of America | London | Marcin Wojtal |
| HSBC | Düsseldorf | Christoph Dolleschal |
| Jefferies | London | Graham Hunt |
| Kepler Cheuvreux | Madrid | Luis Prieto |
| Landesbank Baden-Württemberg | Stuttgart | Jens Münstermann |
| ODDO BHF | Madrid | Antonio Rodríguez Vicens |
| Société Générale | Madrid | Victor Acitores |
| Stifel Europe | London | Augustin Cendre |
Disclaimer
The research reports and other analysts' statements referred to here have been received from third parties, in particular from equity and credit analysts employed by a range of banks and investment banks. Reference to such reports and statements is provided for information only and does not imply any agreement with or consent to the content of such reports and statements or the information, opinions or conclusions contained therein. HOCHTIEF further draws attention to the disclaimers issued by each firm whose reports and statements are referred to here, which should be read in full. HOCHTIEF accepts no liability for the selection, current relevance, completeness or correctness of the analysts' recommendations or assessments referred to here. None of the information contained or referred to on this Internet site is to be understood as an offer for purchase of shares or bonds of HOCHTIEF or its subsidiaries or related undertakings. Any liability on the part of HOCHTIEF Aktiengesellschaft for losses incurred by third parties arising from the research reports and other analysts' statements contained or referred to on this website is precluded to the extent permitted by law.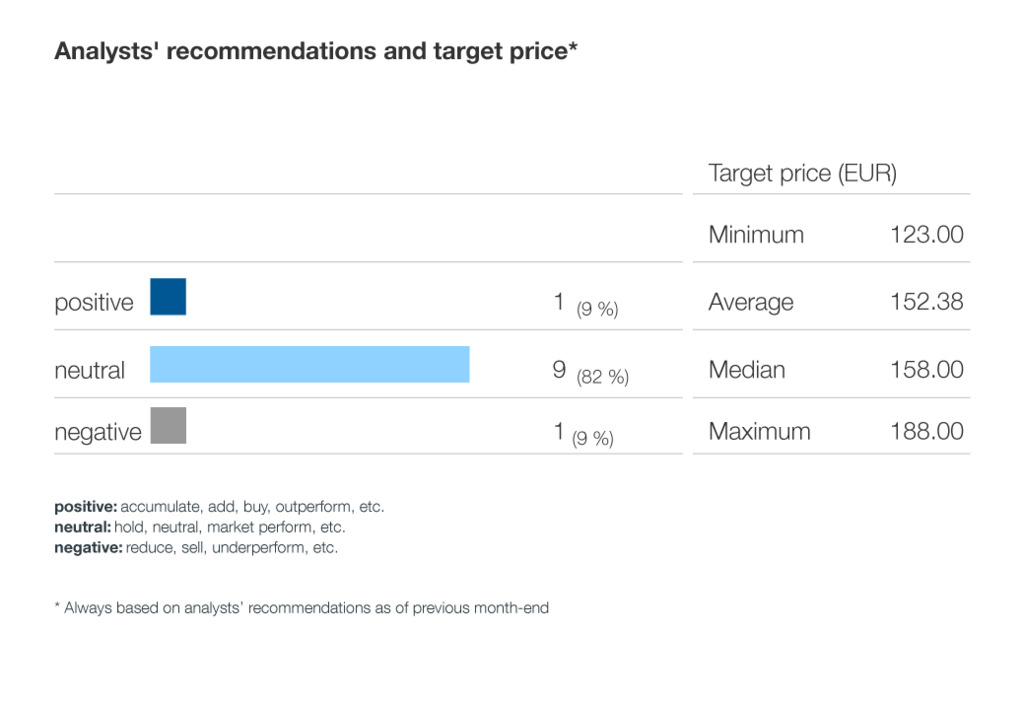 Shareholder structure
Based on the voting rights notifications of shareholders according to §§ 33ff. WpHG out latest shareholder structure is as follows (as of November, 2023):
Dividend
Shareholder remuneration continues to be a key element of the Group's capital allocation strategy.
Our policy is to pay out 65% of nominal net profit as dividend. In line with that policy, the dividend for 2022 is EUR 4.00 per share, compared with EUR 1.91 per share for 2021.
Furthermore, the group has a track record of additional shareholder remuneration via share buyback programs.
Share Buybacks