For business partners
Approximately 73% of the Group's performance is used for material and subcontractor services. Throughout the Group, we have a standard target in Procurement: With regard to our economic, ecological and social standards, we aspire to always choose the "right" suppliers and subcontractors. Since each of our projects is unique and involves new challenges, we also pursue innovation and sustainability in Procurement. Efficiency and quality of procurement processes are very important for us and represent an important factor in our company's success.
On this page
Basic principles
This is how we design our supply chain
In procuring materials and services, sustainability and transparency are extremely important for the HOCHTIEF Group and are firmly anchored in our processes. We are aware that we place stringent requirements on the procurement processes and hence on the choice of our business partners. Furthermore, in its supply chain HOCHTIEF also places great value on such aspects as price, functionality, quality and availability of products and companies.
Economic, ecological and social principles form the basis of the HOCHTIEF Group's business. These principles are defined in our Procurement Directive. With these binding regulations, tried-and-tested and risk-minimizing processes, we describe the most important values, responsibilities and principles of conduct for all HOCHTIEF employees who are integrated into the procurement process.
Sustainable supply chain
All employees of Procurement are responsible for contributing towards a sustainable supply chain, which complies with HOCHTIEF's economic, ecological and social standards. This also includes operating in a safe and healthy environment with minimum environmental pollution and simultaneous high quality of our products.
Human rights
Compliance with human rights in our supply chain is one of HOCHTIEF's top priorities. This applies to all persons who are part of our supply chain or are affected by it.
Local companies
Our goal is to guarantee an environmentally friendly supply chain by primarily cooperating with local and sustainable companies. Through this approach, we want to keep transport routes short and promote the local economy.
Social integration
In cooperation with subcontractors and suppliers, we promote social integration and thereby invite all parts of the community to cooperate with us.
Best possible procurement
Joint standards ensure quality as well as responsible operations in Procurement and ensure comprehensive prevention.
We have defined a fundamental principle, which serves as the basis for evaluating our supply chain. In this way, we want to ensure that potential sustainability risks are recognized at an early stage, in order to consequently minimize these through targeted measures (so-called corrective action plans).
This process includes comprehensive prequalification of our partners by HOCHTIEF, recognition of our HOCHTIEF Code of Conduct for Business Partners, a clear contract design, an ongoing monitoring of our construction sites during execution, a structured evaluation after completion of the work and—with increasing importance and to complement this—a detailed sustainability evaluation of our contractual partners by an independent organization (for instance IntegrityNext).
Furthermore, we identify critical suppliers and subcontractors in our supply chain. We define these on the basis of monopolies, particularly high contract volumes, deliveries of fundamentally important components as well as availability of resources. In 2021, HOCHTIEF rated approximately 5,000—and hence about ten percent of suppliers and subcontractors—as potentially critical. These represent around 68 percent of total procurement volume. In addition, in 2021 HOCHTIEF rated around 56,000 of non-tier 1 suppliers as potentially critical.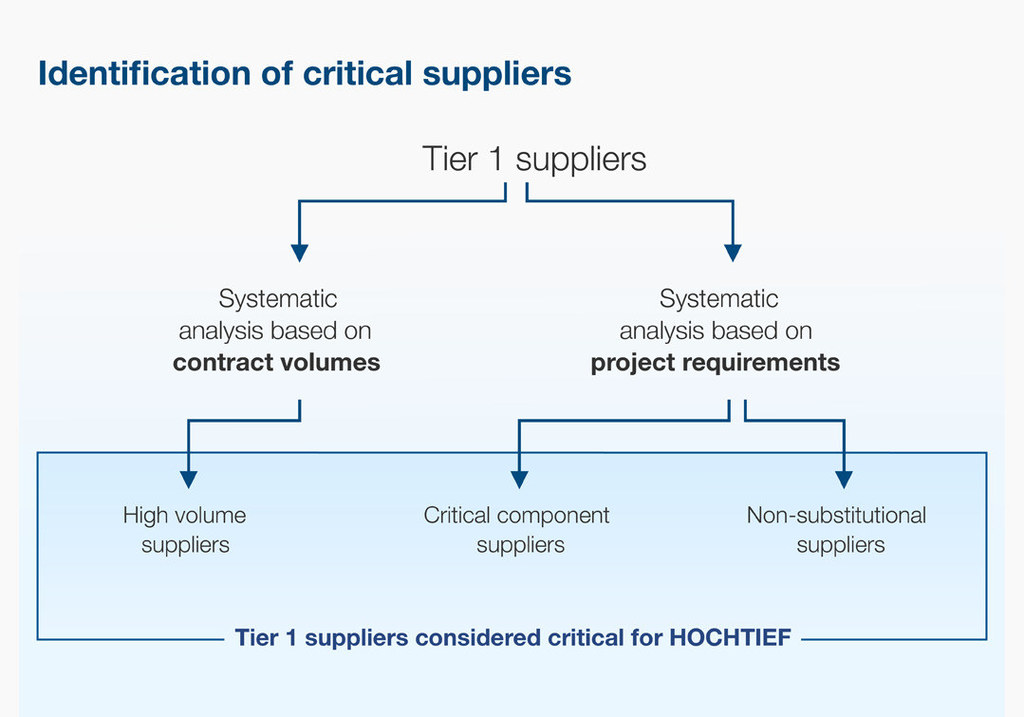 We regularly train our buyers in terms of sustainability in the supply chain. In 2021, we trained more that 94% of our buyers (2020: 92%). We aim to train 100% of our buyers in 2022.
The HOCHTIEF Code of Conduct for Business Partners
Our basis for cooperation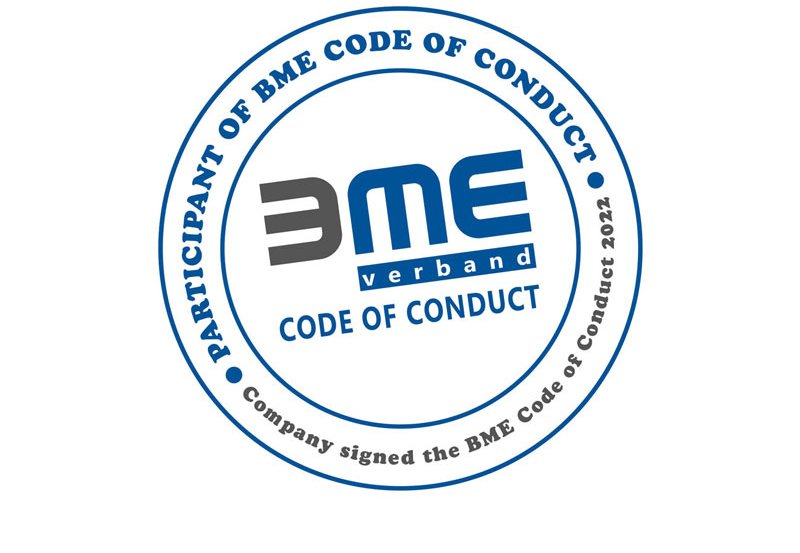 HOCHTIEF not only places high requirements on itself but also on its subcontractors and suppliers. HOCHTIEF only cooperates with partners who comply with these requirements and who, for their own part, enforce and encourage compliance amongst their own subcontractors and suppliers. We have formulated our ecological and social requirements in our HOCHTIEF Code of Conduct for Business Partners.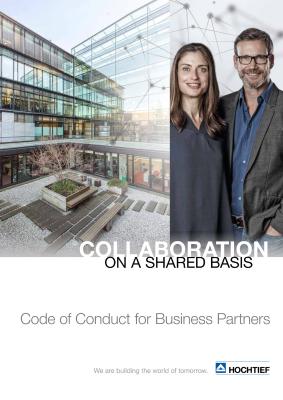 HOCHTIEF Code of Conduct for Business Partners
PDF (525.9 KB)
The HOCHTIEF Code of Conduct for Business Partners is available in a total of 14 language versions, which you can find here for downloading.
Organization of procurement
Our global network
With our three divisions HOCHTIEF Americas, HOCHTIEF Asia Pacific and HOCHTIEF Europe we are present on all important markets of the world. In 2021, HOCHTIEF spent EUR 16.1 billion for procurement of material—particularly concrete, steel and wood—as well as subcontractor work, for instance craft enterprises who work for HOCHTIEF. In 2021, HOCHTIEF purchased materials and services worth EUR 16.1 billion from approximately 49,000 suppliers and subcontractors in 45 countries.
Geographical spread of suppliers by division and by year
| | | | |
| --- | --- | --- | --- |
| | 2019 | 2020 | 2021 |
| HOCHTIEF Asia Pacific | 30,027 | 25,875 | 18,249 |
| HOCHTIEF Americas | 14,440 | 16,650 | 16,173 |
| HOCHTIEF Europe | 16,021 | 13,824 | 14,589 |
| Total | 60,488 | 56,349 | 49,011 |
Geographical spread of spend by division and by year
| | | | |
| --- | --- | --- | --- |
| | 2019 | 2020 | 2021 |
| HOCHTIEF Asia Pacific | 31.00% | 35.00% | 22.50% |
| HOCHTIEF Americas | 63.00% | 56.00% | 70.50% |
| HOCHTIEF Europe | 6.00% | 9.00% | 7.00% |
A declared aim of HOCHTIEF is to be present in all important markets of the world via a global network. In order to achieve this, the Procurement units in the individual operating companies act in accordance with the decentralized deployment of the divisions in the respective markets.
The Procurement employees form a professional network. The decentralized Procurement teams, which tend to be rather SME-oriented, operate as an integrative part of our projects and are supported by central Procurement units which overlap across divisions and throughout the Group. The joint target is to select appropriate suppliers and subcontractors with regard to HOCHTIEF's economic, ecological and social requirements.
Supplier portal
This is how we get to know each other
Suppliers and subcontractors can register in the HOCHTIEF supplier portal and have the opportunity to present their company and hence their services and products. By registering, suppliers and subcontractors become part of the HOCHTIEF network. They receive information about bid invitations and can make applications for these if they are interested.
Documents (multilingual)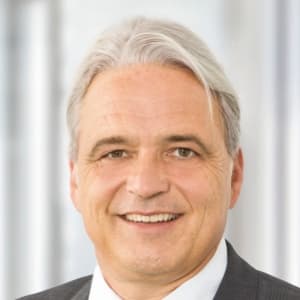 Wolfgang Klee
HOCHTIEF
Head of Procurement
Alfredstraße 236
D-45133 Essen
Tel.: +49 201 824-1269
support@hochtief.eu