Compliance
As an internationally successful company, we operate in many different political systems and jurisdictions. Protecting and maintaining HOCHTIEF's reputation is a top priority for us. Every employee must therefore be capable of doing the right thing. Illegal company practices must be avoided without any exception. HOCHTIEF has therefore introduced a Compliance System in order to counter this challenge in the best possible way.
On this page
Organization
This is how HOCHTIEF regulates compliance with all regulations
HOCHTIEF's Compliance Organization offers support and advice to all HOCHTIEF employees to help them to comply with laws and regulations as well as internal rules.
HOCHTIEF Aktiengesellschaft's Chairman of the Executive Board (CEO) is responsible for Compliance. He is supported by the Chief Compliance Officer and Corporate Compliance & Legal. HOCHTIEF divisions are structured in a similar way with one Compliance Officer at the top and additional contact persons, the Compliance Managers. The Compliance Officers ensure that the Compliance Program is implemented in the divisions, that compliance risks are recognized at an early stage and that appropriate measures are developed. The Compliance Managers are the direct contact persons for employees in the companies. They support the program's implementation and further development and report to the responsible Compliance Officers.
All divisions have compliance committees of their own, in which the functional departments (human resources, auditing, procurement, etc.) are represented. These committees meet at least once every quarter to advise and support the compliance organization in integrating the program into business workflows and processes.
Preventing corruption and antitrust infringements is the main focus of the Compliance Organization. Infringements in areas that do not come under Compliance are the responsibility of the respective functional departments, such as the center for occupational safety, health, and environmental protection (OSHEP Center) or the Data Protection Officer of HOCHTIEF.
Factsheet
language variants of the HOCHTIEF Code of Conduct for Business Partners are available.
of business partners in the Division Europe have committed to the Code of Conduct for Business Partners in the core business.
of all HOCHTIEF employees completed the e-learning on the HOCHTIEF Code of Conduct in the first six weeks.
of all HOCHTIEF employees were trained successfully regarding the HOCHTIEF Code of Conduct by the end of 2022.
employees provide information and advice on compliance topics throughout Europe.
online training sessions were conducted by Corporate Compliance in 2022.
HOCHTIEF Code of Conduct
We have a tradition of a binding Code of Conduct
We published our Compliance Requirements in such a Code in 2002 and have continuously developed them since. Today, in the form of the HOCHTIEF Code of Conduct, it has been laid down as binding for HOCHTIEF Aktiengesellschaft and the HOCHTIEF Europe Divisions. Available in nine languages, the HOCHTIEF Code of Conduct stipulates binding rules for all employees.
The HOCHTIEF Code of Conduct provides orientation and guidelines on the behavior we expect from our employees in their day-to-day business. It answers questions on antitrust law, provides support in potential conflicts of interest or in negotiations with business partners. It is also meant to help identify situations of bribery or corruption or to deal correctly with donations and sponsorship money.
In order to ensure fair play, HOCHTIEF also calls upon business partners, clients, and suppliers to comply with our standards.
For this purpose, the Group has developed the HOCHTIEF Code of Conduct for Business Partners, which is available in 14 languages.
HOCHTIEF Code of Conduct
PDF (10.4 MB)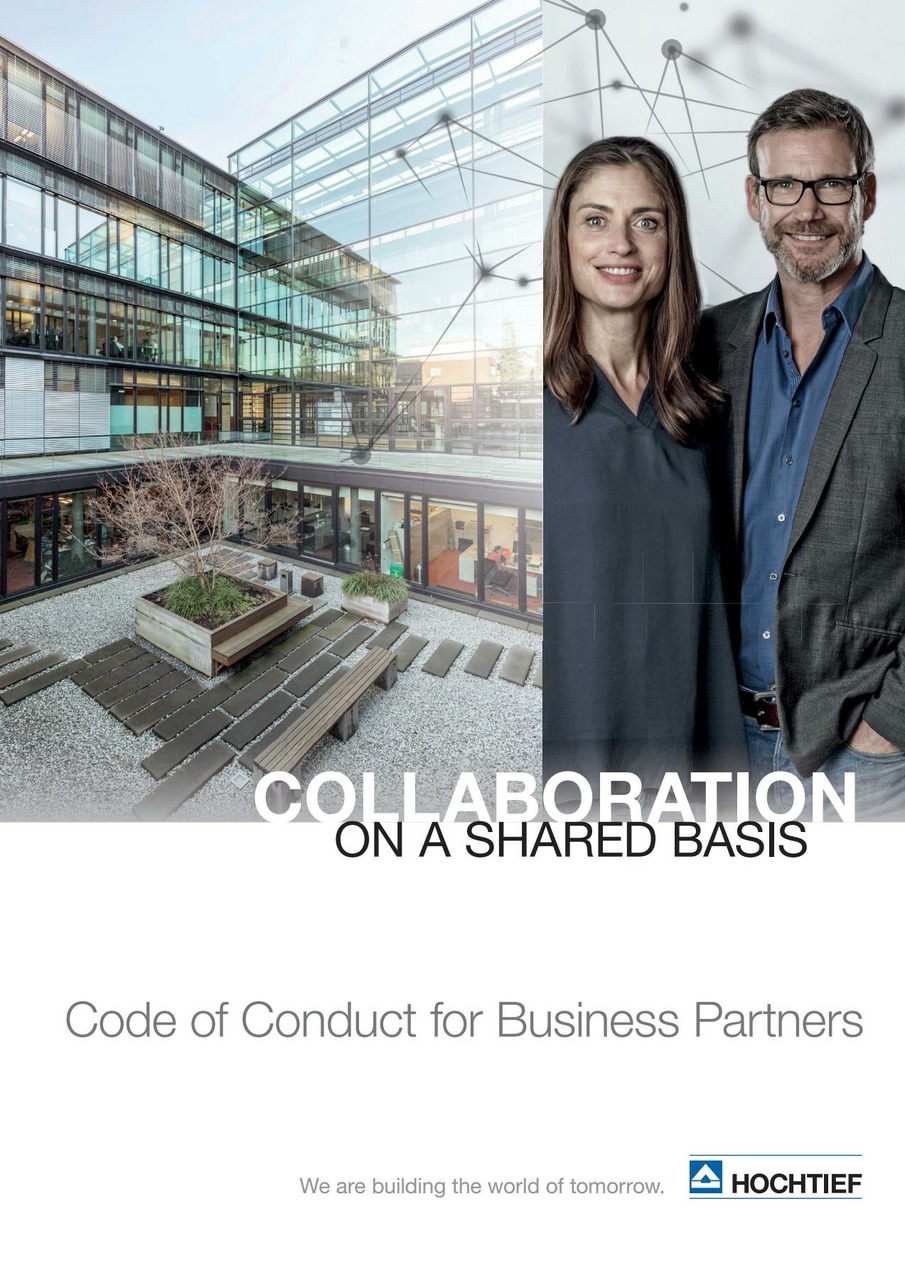 HOCHTIEF Code of Conduct for Business Partners
PDF (6.3 MB)
HOCHTIEF's Code of Conduct is available in additional language versions as a download
HOCHTIEF's Code of Conduct for Business Partners is available in additional language versions as a download
Combining corporate activity with ethical principles has a long tradition at HOCHTIEF and is one of the supporting pillars for long-term success. Compliance with laws and our corporate rules represents a central element of our actions. Therefore, we only work with partners who meet these requirements and also demand them from their partners.
Directives
Clear help for our employees
In all divisions, Group Directives and work instructions specify the contents of the Code of Conduct, in order to provide help for employees. Compliance with these requirements and statutory regulations are an integral part of good Corporate Governance.
Measures
Highest ethical standards
Anticorruption
Corruption takes many faces and occurs in the most different domains. HOCHTIEF's priority is to avoid and fight corruption.
HOCHTIEF expects the same from its business partners. Our relationships to all business partners must be based on objective criteria alone, especially on quality, reliability, the competitiveness of their prices as well as on the respect of environmental and social standards and on the principles of good Corporate Governance.
HOCHTIEF prohibits bribery in any form. This means that employees may never demand or accept something of value (e.g. payments in cash, gifts, entertainment events or other personal advantages) in their relations with business partners or public officials. This also means that personal advantages may never be promised or delivered to employees of other companies or public officials in the hope to obtain a contract, to make sure a deal is concluded or to procure HOCHTIEF an unfair advantage.
All employees must inform their supervisors whenever a Business Partner or official proposes or requires a personal advantage.
So-called "facilitation payments" (i.e. small amounts of money or something of value granted to public officials in exchange for the acceleration or facilitation of administrative procedures or decisions by authorities, such as custom clearance) are also prohibited.
Training
HOCHTIEF's Compliance Organization regularly informs employees about the content of Compliance Programs and in particular, the Compliance Directives in Compliance training. This, for instance, takes place in the form of classroom training, web training or e-learning.
Reporting incidents
HOCHTIEF's whistleblower system
HOCHTIEF's ISO 37002-certified whistleblower system offers different ways to give information regarding violations of internal or legal rules in business. On the one hand, a web-based system is available to you for this purpose. On the other hand, you have the option of contacting an ombudsman. Criminal offenses in particular can cause great damage to the company. For this reason, we would like to encourage those who have knowledge of possible crimes or other irregularities to have the courage to use HOCHTIEF's notification system. In 2021, 267 notifications were received through the whistleblower systems, 24 of them concerned anticorruption, 11 conflicts of interest, 30 Human Resources, 7 Fraud and 195 notifications on other topics. All notifications were investigated and fully resolved. Where necessary, HOCHTIEF has implemented measures in the compliance system resulting from the information provided, such as adjustments to the training program or the directives landscape.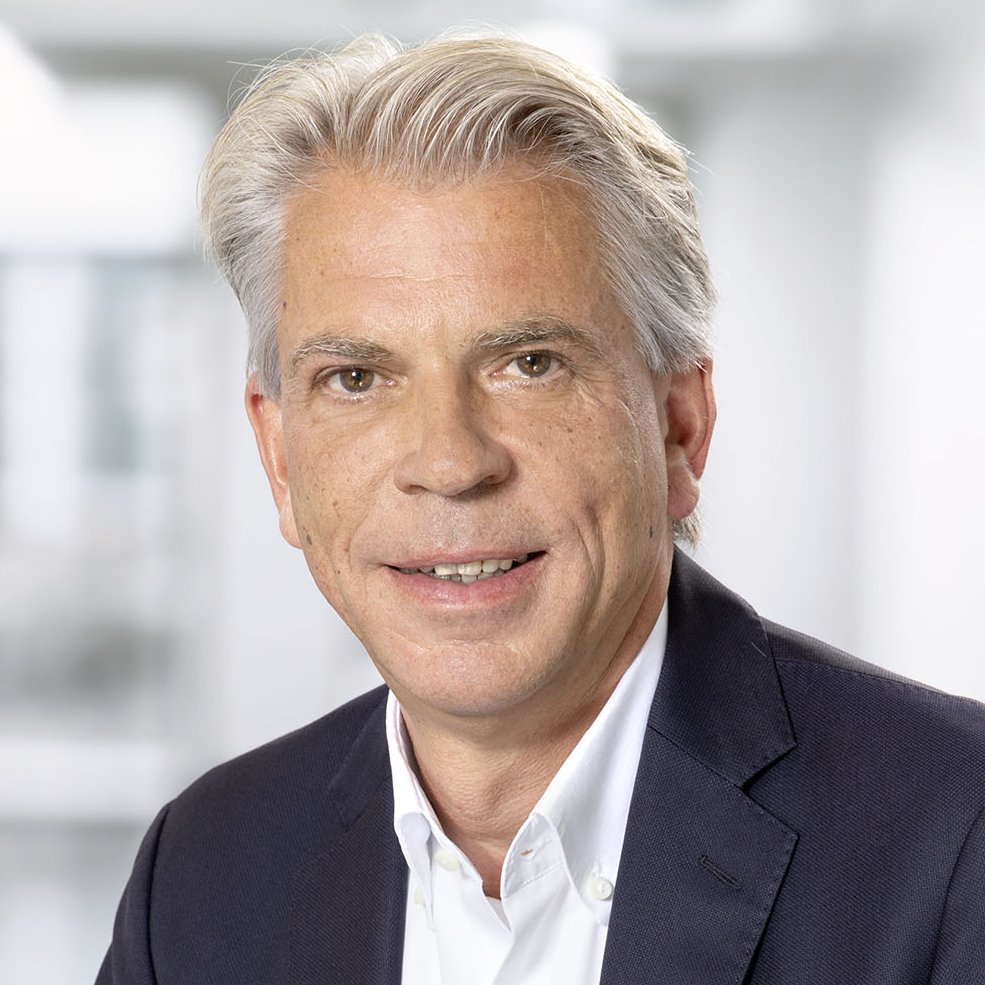 Dirk von Keitz
HOCHTIEF
Head of Corporate Compliance
Alfredstraße 236
D-45133 Essen
Tel.: +49 201 824-1962
compliance@hochtief.de