This is the start to our trainees' first day
The step to begin professional life marks an important new chapter in people's lives and often makes their hearts beat faster. Our trainers therefore have plenty of ideas on how to make things really special for trainees on their first day.
"As soon as we were in the company entrance, our name was already on the screen," explains Pascal Ammer, regarding his first day at HOCHTIEF. He is close to completing his three-year training. "I really felt honored there. After all, HOCHTIEF is a major group, which is present all over the world. And then my name is up there! It couldn't be better," says the up-and-coming construction machine operator, and smiles.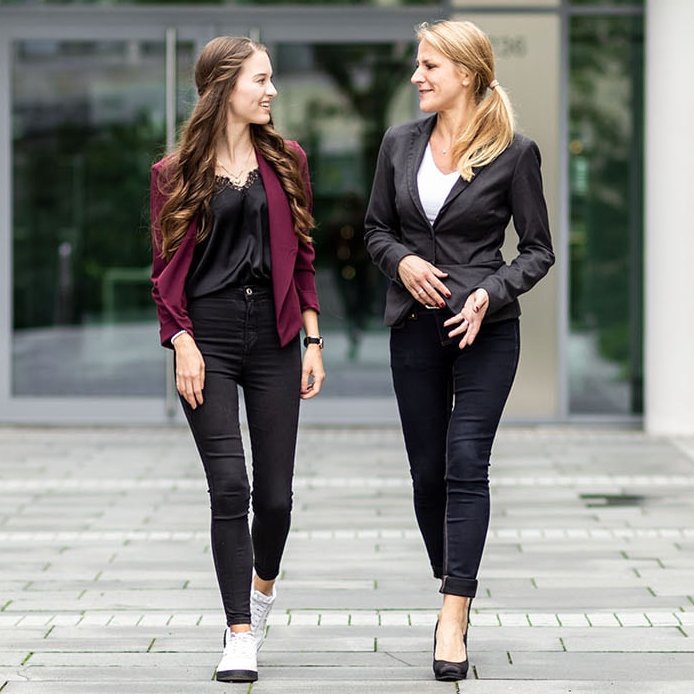 The start of a joint journey
Trainee Michelle Bendzulla can also well remember her first day at HOCHTIEF. The future industrial management assistant already got organized with others in the previously founded WhatsApp group, in order to go together to the meeting room: "I was absolutely delighted to be able to finally personally get to know the other trainees."
Every year on August 1 in Essen, it is just like the first day of Pascal Ammer and Michelle Bendzulla. The trainees of HOCHTIEF companies experience the first encounters in their new chapter of life. Nadine Bertlich, responsible for commercial training professions at HOCHTIEF Solutions, and Pietro Spano, trainer for industrial trainees at HOCHTIEF Infrastructure, then also take their new mentees under their "wings". Both of them carried out their training at HOCHTIEF, and know how the young people feel. Therefore, on the first day things should above all be relaxed. Nadine Bertlich has plenty of ideas to help people get to know each other. This helps to rapidly dispel any initial nervousness and excitement amongst newcomers. On this day, the trainees also personally get to know their respective mentors: During the first days and weeks, trainees from previous years provide practical tips.



Simply ask, whatever this involves. Nobody will put you down. Then things also get better.

Pascal Ammer, industrial trainee commenting on his start at HOCHTIEF
"Then the Works Council and Youth and Trainee Representatives also introduce themselves. The Human Resources Department explains what a vacation request form is and how to fill it in. Or what you should do if you are ill. This is very practical information, to enable young people to cope at our company," reports Spano. Subsequently, a construction site or nearby training center is on the agenda. "Then proceedings usually come to an end with burgers together in the canteen. Everyone always enjoys this."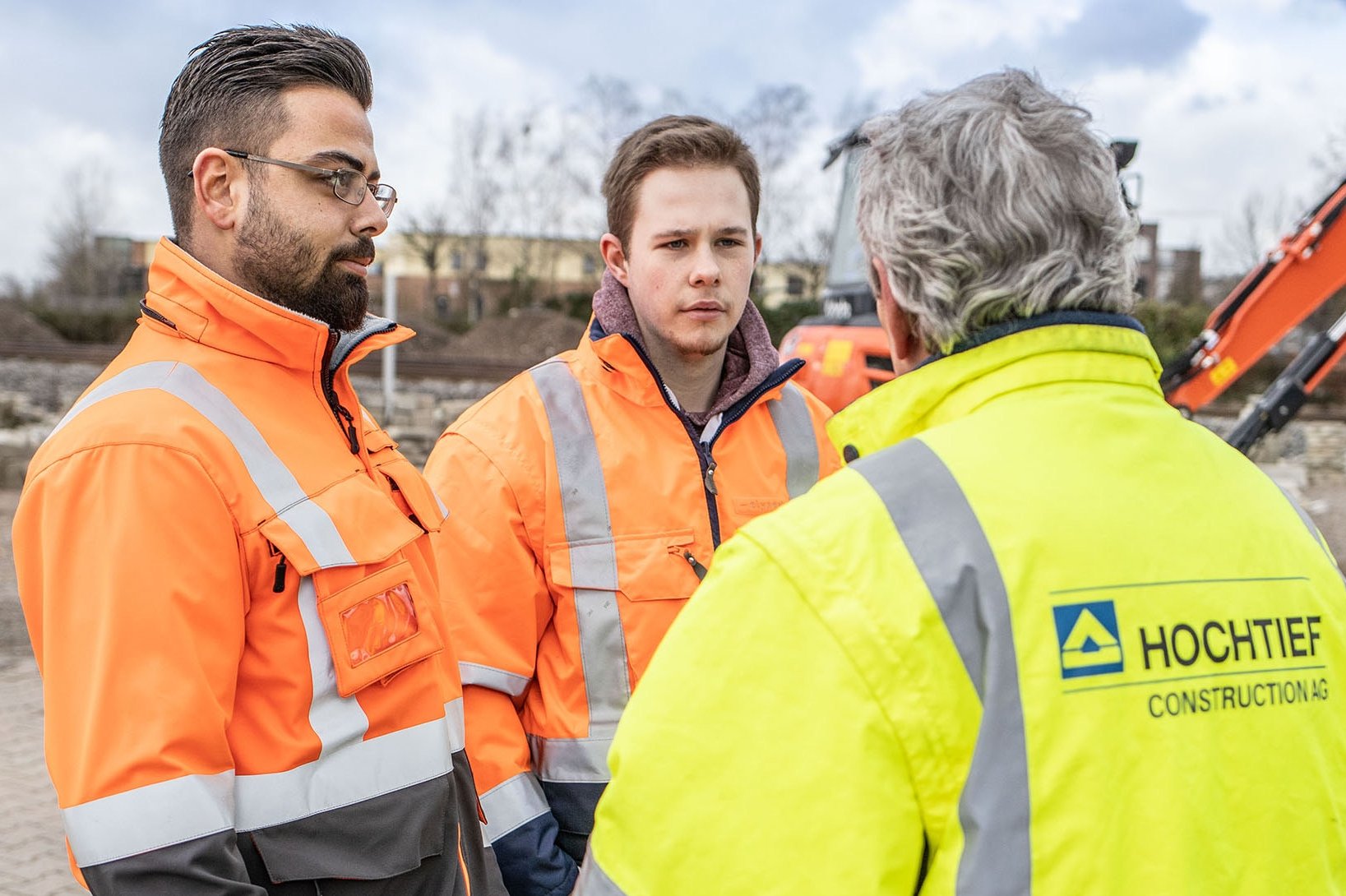 In the afternoon, the industrial trainees receive their protection clothing: Trousers, jacket, helmet and shoes. Everyone directly tries them on. "And what should I say: the clothing never fits—and will also never fit," reports Spano, with a smile. "Our trainees often want to wear their clothes skin-tight, and therefore tell us their sizes far too small. But being fashionable is no use at all on the construction site. So, plenty of changing goes on."
Support beyond the first day
The contacts which trainees make with each other and with their mentors and trainers last way beyond the first day. The WhatsApp groups also continue, simply for practical reasons. "Here one person is already able to explain what block instruction meansor what teacher we have. For this purpose, we naturally exchange information with each other," reports Michelle Bendzulla. Insights into the departments which the trainees visit are also exchanged with each other. "This exchange is important, particularly in a major group like HOCHTIEF," explains Bertlich. "There you find out what the customs are in the departments, what goes on there and what tasks you will face." And naturally the networking is valuable for the time after the training. "Then you always know: Oh yes, this person was with me in the training year, so I can simply phone and ask them," explains the HR officer from her own experience.



Trainees from HOCHTIEF stick together. At the training center, we also show each other what manual skills are important for the job.

Mouhammed Singer, trainee construction machine operator, regarding the solidarity of HOCHTIEF trainees
Like Pascal Ammer, Mouhammed Singer is an industrial trainee in his third year. In the meantime, the two are good friends. He appreciates the exchange with the other trainees. "In the training center and on the construction site we recognize each other because of our HOCHTIEF clothing, and stick together. We then exchange information about how things are going on the construction site. Or you notice if someone is new at HOCHTIEF and needs support," explains the up-and-coming construction machine operator.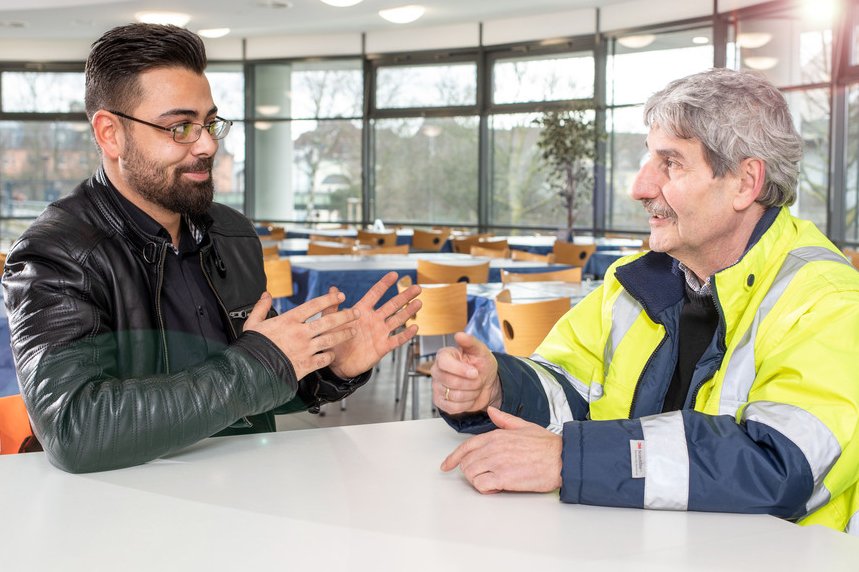 He is glad to explain to a new person the routine in the school and what you learn there. He also talks about his construction site and what is currently being built. "In the training center we also show each other what manual skills are important for the job," explains the married father of a child. By the way, he found his way to HOCHTIEF through the non-profit organization "JOBLINGE". There, Spano discovered his talent. Mouhammed will certainly never forget the job interview with the experienced trainer: "After that, I immediately asked when I can expect his answer. I was genuinely afraid because of my references/certificates. But Mr. Spano recognized that I really wanted to do the training and just said: Now! You can start training at our company. I then got really excited."
April 2020
On our Job Search page, you can inform yourselves about all vacancies.