Practical sustainability
We take our societal and ecological responsibility seriously. Therefore sustainability aspects have top priority in our daily work—not only at our workplace and in our supply chains but also with regard to our products and services. We also initiate and support environmental protection and social projects.
On this page
Working environment
Award for safety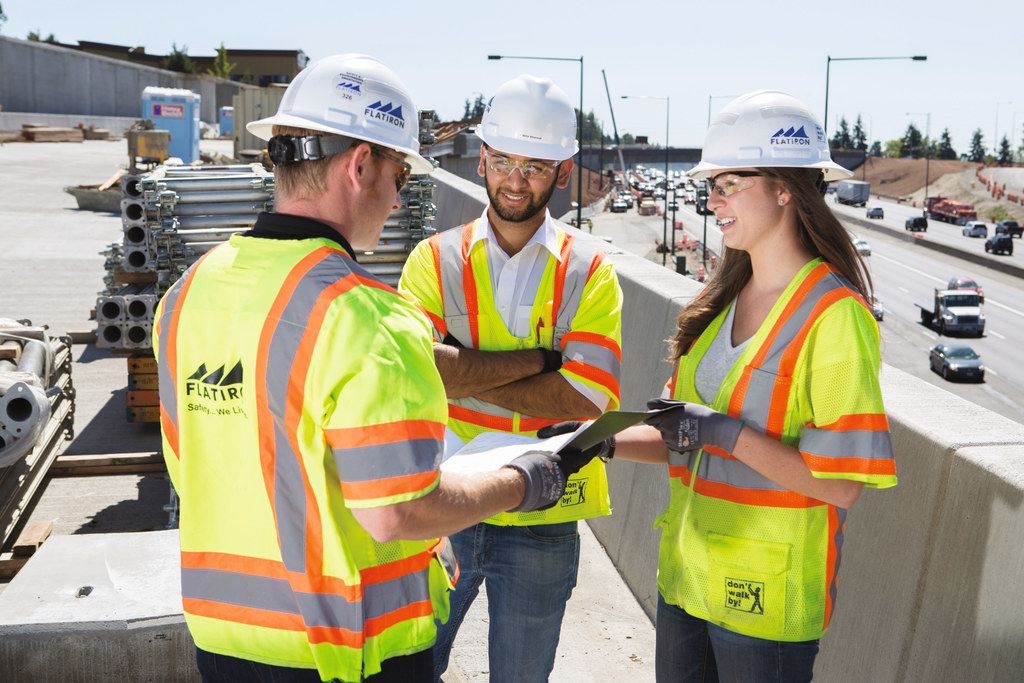 Occupational safety is write large at the HOCHTIEF Group, which is why projects are often recognized for their commitment to safety. In 2017, for instance, the HOCHTIEF company Flatiron received the U.S. Associated General Contractors' highest award in the Highway category. The Construction Safety Excellence Award (CSEA) honors construction companies for outstanding achievements in the area of occupational safety. During the CSEA selection process, independent experts assess companies' commitment to occupational health and safety.
Special protection for crane drivers
Occupational safety and innovation often go hand in hand. One example is the Transmission Gully motorway project in New Zealand where CPB Contractors has developed a GPS-controlled early warning system for cranes working near high-voltage power lines. The system not only protects the crane operators but everyone else in the vicinity. Based on 3D models, this system earned the team a safety prize for technology at the New Zealand Workplace Health and Safety Awards.
Using artificial intelligence for processing offers
Nexplore is working with the Technical Competence Center, Risk and Quality Management, and work section managers in the HOCHTIEFInfrastructure departments on a project to use artificial intelligence in bid preparation. Two electronic tools are currently being developed using a subset of artificial intelligence known as cognitive intelligence: the Cognitive Document Risk Analyzer and the Cognitive Document Analyzer.
They are intended to make bid preparation more efficient through digitalization and standardization—for example, in contract analysis or in preparing invitations to tender. A shared IT platform gives the employees involved in the process access to the applications' services to the use of the required data.
Supply chain
Thiess ramping up Indigenous businesses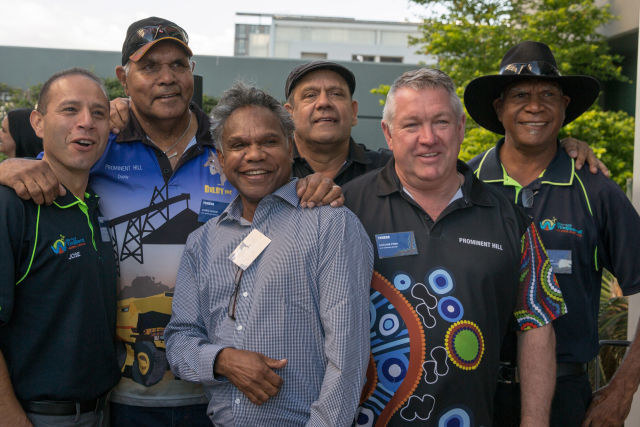 Thiess has ramped up its commitment to creating opportunities for Indigenous businesses and employees, setting up an action group to drive current initiatives and generate new ideas. The newly established Supply Chain Australian Indigenous Engagement Action Group included representatives from across the business who have sought, and will continue to seek guidance from, traditional owner groups and key Indigenous organizations.
A tangible example is Thiess' joint venture with Wirlu-Murra Yindjibarndi Services, who provide labor services for our non-process infrastructure at our Solomon mine project in Western Australia. Other partnerships include using employment service RBY Workstars to place Indigenous workers on Thiess projects, and membership of Supply Nation an organization that assists companies to connect with Indigenous businesses across the country.
Sustainable construction for federal buildings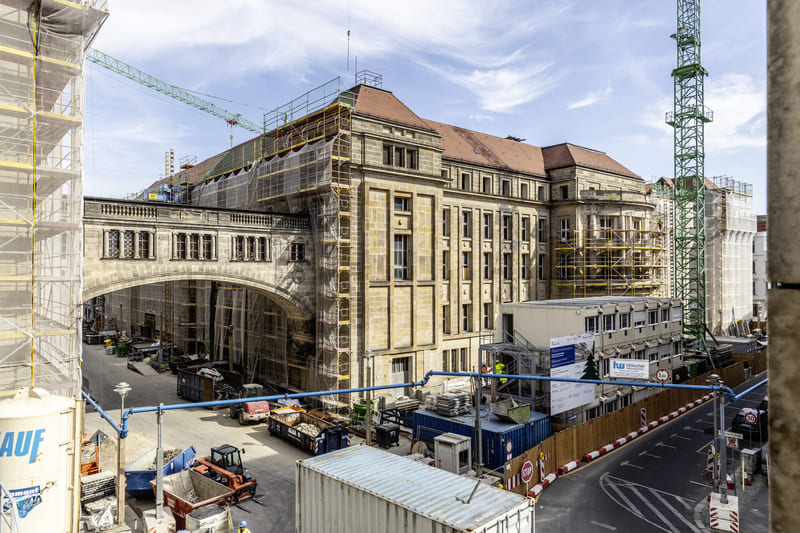 For the German Federal Ministry of Health project in Berlin, HOCHTIEF is refurbishing a landmarked building ensemble to the German Assessment System for Sustainable Building (BNB)'s silver-certification criteria. This requires suppliers and subcontractors to enter the materials to be used in a database, so that quality, standards, and material certifications can be checked in terms of the economical use of materials. Only low-emission materials are purchased and used—including floor coverings, insulation, and wood paneling.
Sustainable products and services
Presidio Parkway: Green PPP project in San Francisco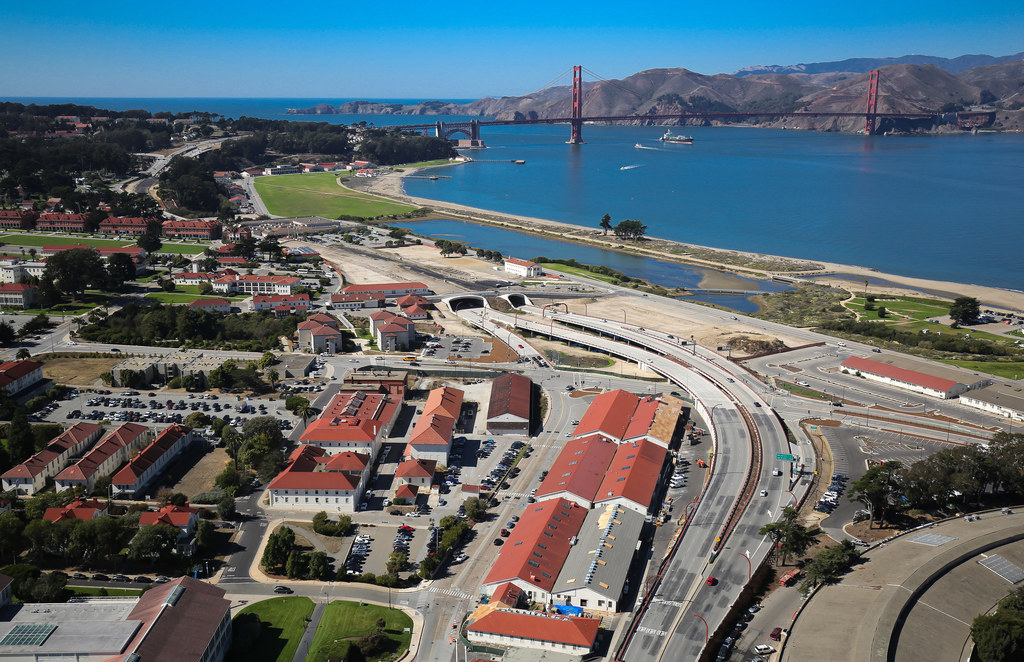 The Presidio Parkway is the southern access route to the Golden Gate Bridge. Our companies, HOCHTIEF PPP Solutions North America and Flatiron, built the new road, inclusive of a tunnel and a viaduct—and they did it sustainably. It is now more earthquake-safe than the previous structure.
In 2018, the project was awarded a certificate for sustainable road-building from the Greenroads Foundation. The assessment criteria included noise protection measures, reduced air pollution, and the recycling of construction waste. The project scored 37 points in the overall assessment, earning it a Bronze certification. This is the first PPP project in the United States to hold a Greenroads certificate.
A unique design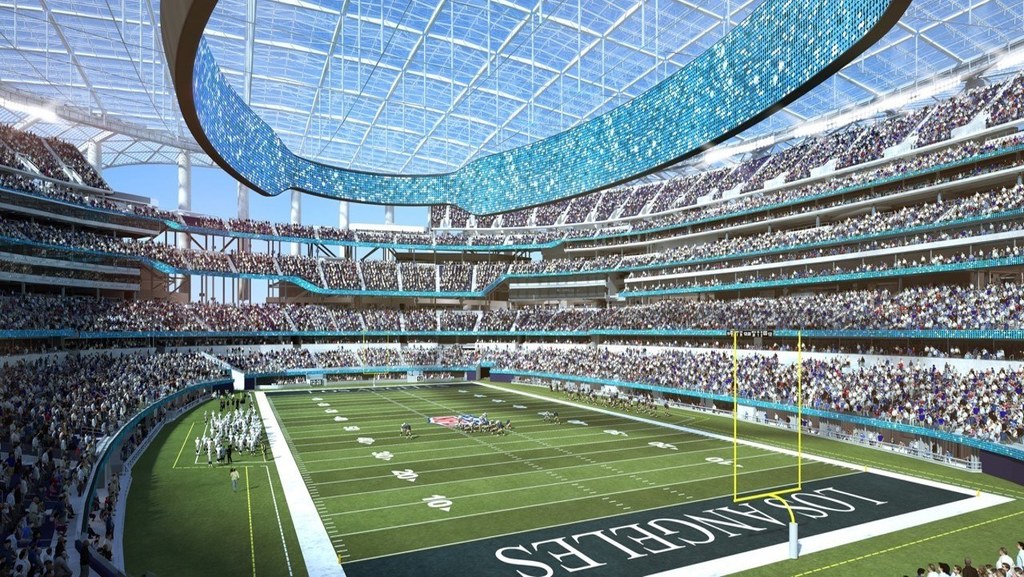 The LA Stadium which HOCHTIEF company, Turner Construction Company, completed by 2020 as part of a joint venture for the American football teams, the Los Angeles Rams and Los Angeles Chargers, has a number of impressive features: The gigantic roof whose unusual geometry gives it an ultra-modern look, is the project's greatest attraction. Its unique design unites all parts of the structure into a harmonious whole.
The roof panels will let plenty of natural light into the interior of the stadium, and this transparent material is approximately only one percent the weight of glass. Turner and AECOM, two of the world's biggest construction providers for sport facilities, worked together on this stadium. With 70,000 seats, it forms the heart of a 298-hectare project. The exceptional sport and entertainment venue is being designed to meet the LEED Gold standard for stadiums.
Green in the heart of the city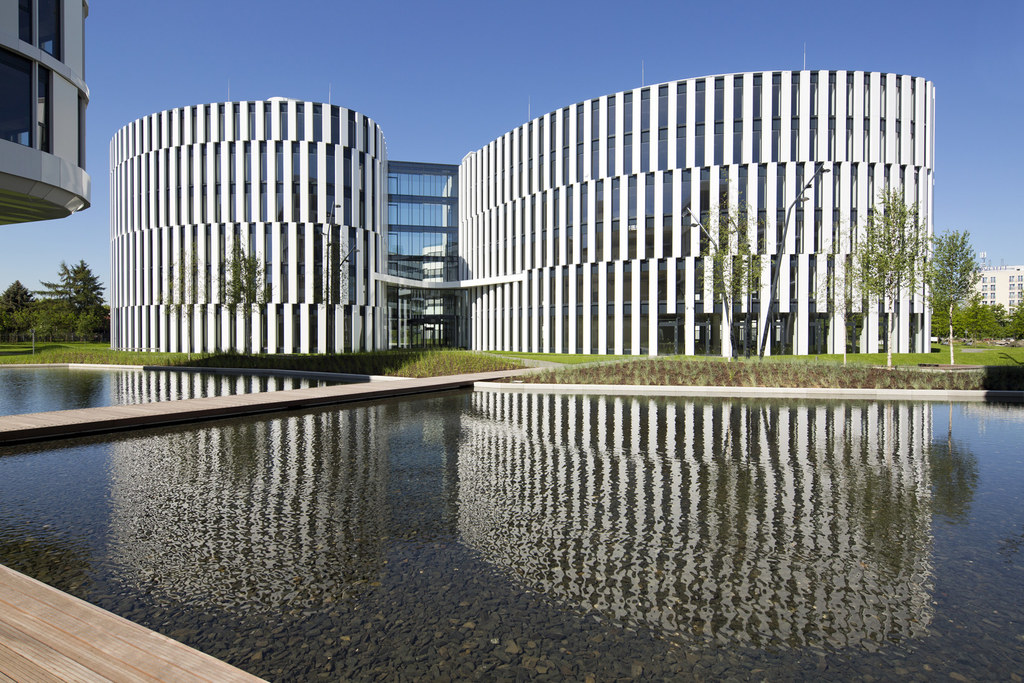 In 2017, HOCHTIEF Polska completed a new green office complex—the second phase of Business Garden—in Warsaw. The HOCHTIEF experts constructed four seven-story and one six-story office buildings, fitting them out with state-of-the-art technology: The project features energy-saving lighting and ventilation systems, a rainwater management system and greened roofs.
Cyclists' needs have been taken into account with numerous bicycle parking spaces. A major part of the area has been planted and landscaped. The Business Garden complex meets all the criteria for LEED Platinum certification. The concept promotes a productive and pleasant working environment.
Modern, safe, green: The Wilshire Grand Center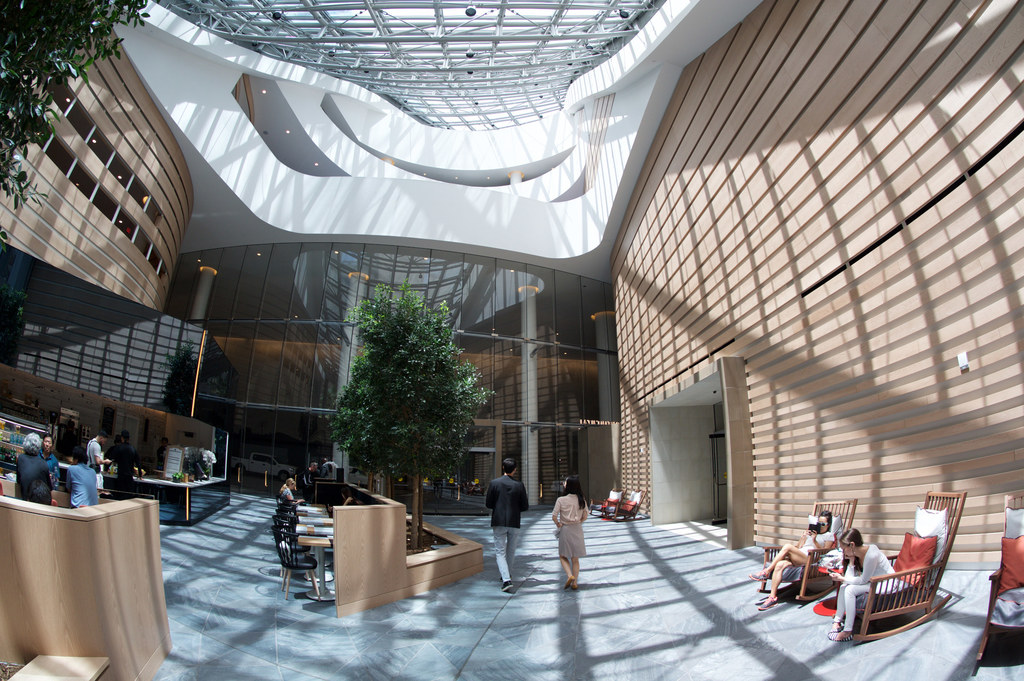 Simply outstanding: With a height of over 330 meters, the Wilshire Grand Center skyscraper is the tallest building on the Los Angeles skyline and it is ultra sustainable: The luxury hotel which opened in 2017 was built by Turner Construction to meet the high standards of LEED Gold certification. Features include innovative lighting and climate systems that significantly reduce overall energy consumption. The building is also fitted with rainwater retention systems that cut water consumption by a good 33 percent.
Recycling measures put in place during the construction phase were not only gentle on the environment but also reduced the budget: The innovative use of cutting-edge technology and automation saved more than three million euros. The building has already received an IBcon Digie Award 2017 in the Mixed Use category as the most intelligent building project of the year. Furthermore, the building's stability is reinforced by 30 diagonal buckling restraint braces distributed across three different levels of the structure—an extremely important feature in the earthquake-prone Los Angeles area.
Climate and resource protection
Lizards welcomed home to Transmission Gully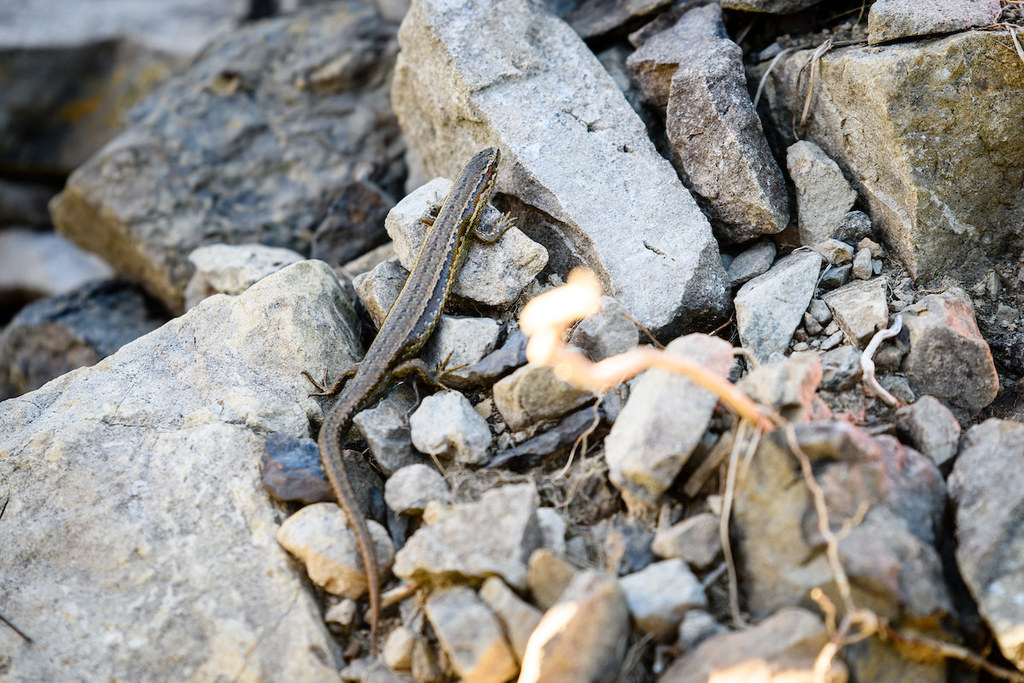 The 27km, four-lane Transmission Gully motorway project is a champion for sustainability, creating an enduring corridor where biodiversity and ecological connections will help local flora and fauna thrive, including bird, lizard and native fish populations. In an example of the team's best practice approach, three species of lizard, gathered before construction began in 2015, were released into newly created habitats, located outside of the active construction site. The lizards were given special whakapainga (blessings) by Kaumātua (elders) of two iwi (tribes), before being released to a pest-protected home outside of the active construction site in the hills near Paekākāriki, overlooking Kāpiti Island.
A key focus of the project is leaving the environment in better shape than it was before works started. To that end, one of the largest planting programmes ever seen in the lower North Island is underway on the project. More than 530 hectares are being retired from grazing, and areas planted with around 2 million native trees and shrubs.
Further-reaching protection of flora and fauna
How do our projects help protect water quality? Just take a look at Turner's Watershed project in Fremont, Washington. It targets certification from the Salmon-Safe ecolabel, which focuses on rotecting wild salmon and their natural habitat. The project team developed a process to retain contaminated rainwater and clean it. After passing through several tiers of bioretention planters, the water flows into Lake Union.
The team working on a start-up information center in Munich undertook tree and species conservation measures and also integrated an area for bats into the building. As part of the Moers city hall, a PPP project, HOCHTIEF planted a "bee lawn" as a voluntary bonus service, and the company also landscaped a wildflower lawn at the Fürst Wrede military base. HOCHTIEF CZ worked on a project to reforest a former coal mine site—an area totaling some 32,000 square meters—in Silesia in the reporting year.
Working sustainably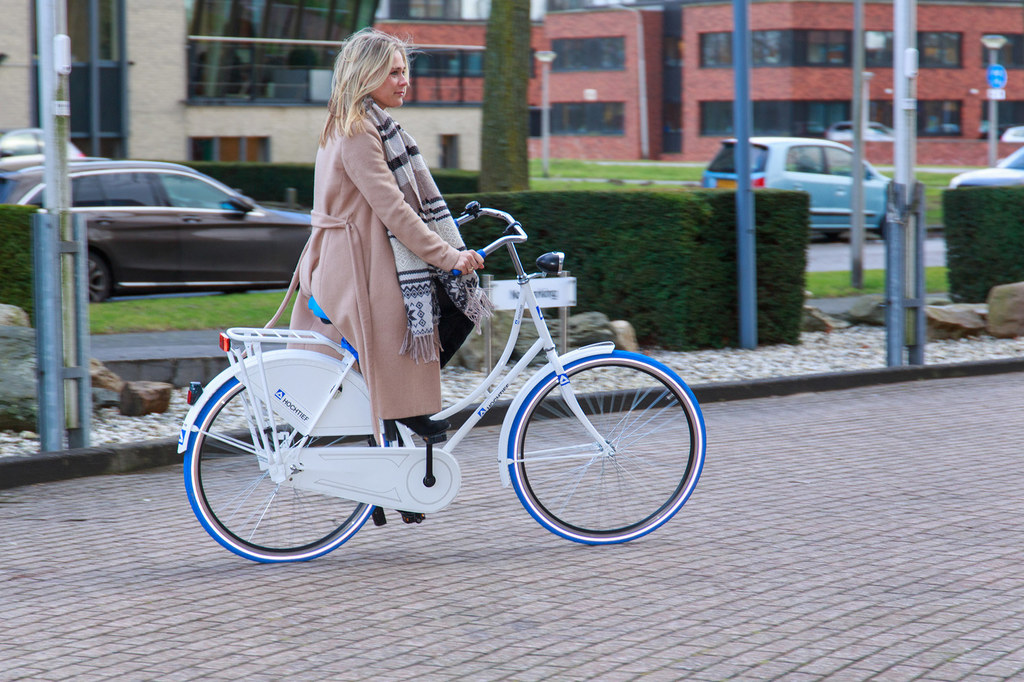 HOCHTIEF Nederland is making every effort to reach the "two-degree target": In 2017 the company moved to a new office which is fitted with energy-saving lighting and light sensors. Employees can charge electric vehicles there, and use bicycles owned by HOCHTIEF. Training that teaches about sustainable, fuel-saving driving is also offered on a regular basis. In addition, the company is participating in the "Trees for all" compensation campaign, whereby a tree is planted for each new employee.
The company furthermore signed the "Green Deal 2.0" agreement in 2017 which obliges public-sector and private industry partners to take an even more sustainable approach. Some of its aims: inclusion of sustainability undertakings in contract wordings, the development of processes for monitoring the degree of sustainability, and modern communication methods.
Various campaigns help raise awareness around climate protection and mobilize people. Over a three-week period in summer 2019, for instance, numerous HOCHTIEF employees participated in the nationwide Stadtradeln (urban cycling) campaign, consciously avoiding traveling by car and cycling instead. As a result, they reduced CO2 emissions by almost 1,100 kilograms.
Sustainable highways
As part of the public-private partnership created around the A6 highway project in Germany, HOCHTIEF created extensive new natural habitats. Furthermore, the percentage of materials recycled on such projects is especially high. Roughly 90% of the old Neckartal Bridge was processed and reused as construction material for roadworks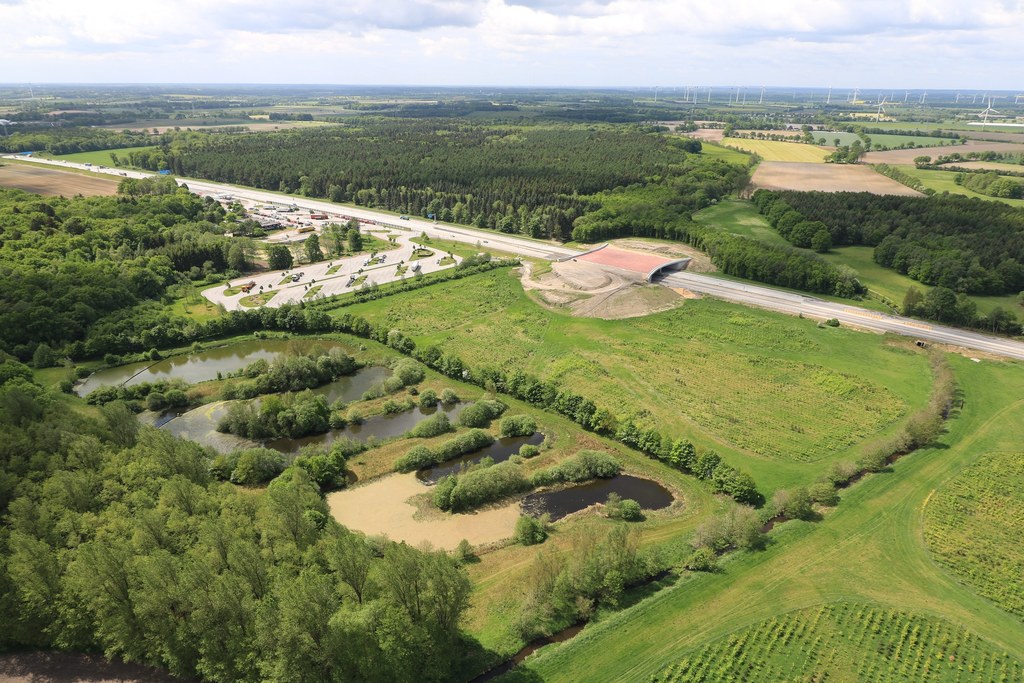 HOCHTIEF is upgrading one of Germany's most important traffic arteries—the A7 highway from Hamburg to the Bordesholm interchange in Schleswig-Holstein. As part of this upgrade, HOCHTIEF was involved in building noise protection tunnels (Schnelsen, Stellingen). Parking lots and small gardens were built on top of these tunnels.
The project will bring districts together which have previously been separated by the highway. Two green bridges have also been planned and partly built (see photo). These will make it possible for animals such as red deer to cross the highway safely.
Green Zone—Turner's internal competition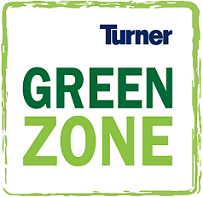 For the last nine years, Turner has regularly analyzed the workplace situation of its employees in the in-house Green Zone competition. The initiative is about measurable processes to improve health and working conditions on construction sites and in offices. Examples include the use of recycled paper and automatic lighting controls as well as setting up carpools. In 2019, the competition had 258 entrants, 142 of whom were awarded Green Zone status.
Wasteland turned into a vegetable garden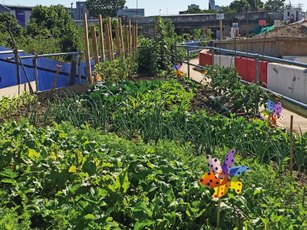 The Power Road Bridge project team in the UK has transformed waste ground adjacent to the construction site into a vegetable garden. During the project, the topsoil was moved there and crops lanted in it. As a result, it served as a green lung where employees met up and took breaks. A win-win situation for people and the environment.
Corporate citizenship
Access to water for Mongolian shepherds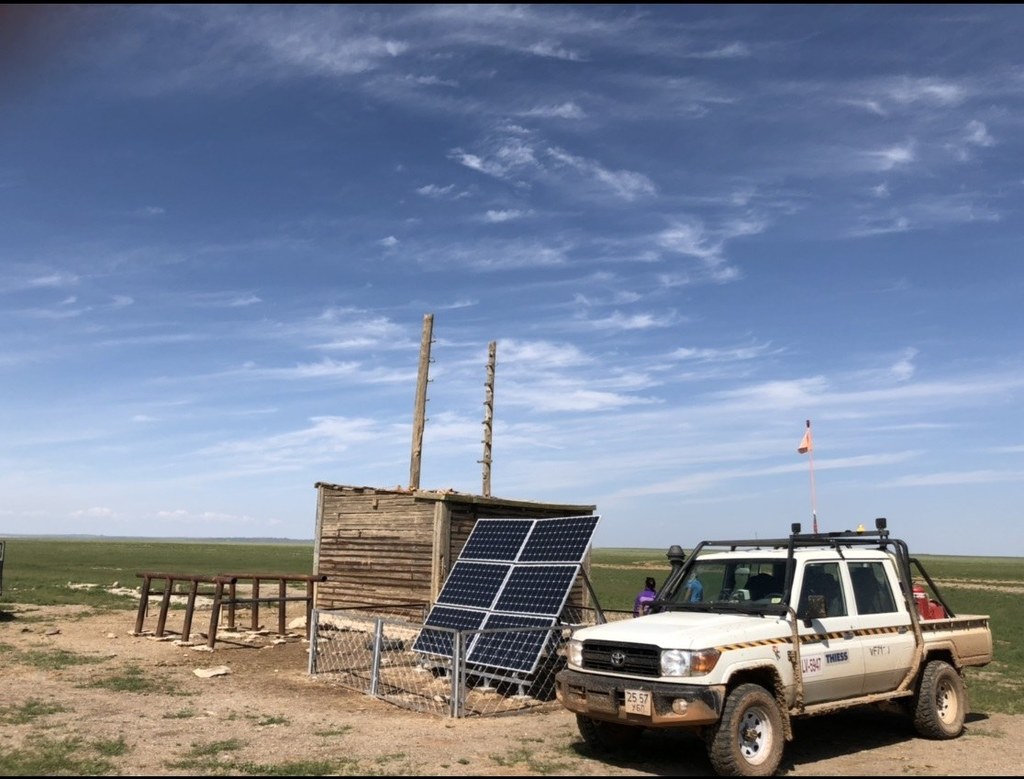 Herders in one of Mongolia's sparsely populated areas can now easily access water thanks to a partnership between Thiess, Oyu Tolgoi, local government agencies and the community.
Traditionally, the herders in this region have used small, hand-made buckets to raise water from wells by hand for their animals and homes. As one of the key contractors at Oyu Tolgoi copper-gold project in the Mongolian territory of Khanbogd Soum, Thiess installed solar-powered pumps on 10 strategically located wells that are vital sources of water for the region's pasture land and remote households. The new solar-powered pumps are making the task less labour intensive and provide a long-term, eco-friendly solution for the local community.
Use for solar lamps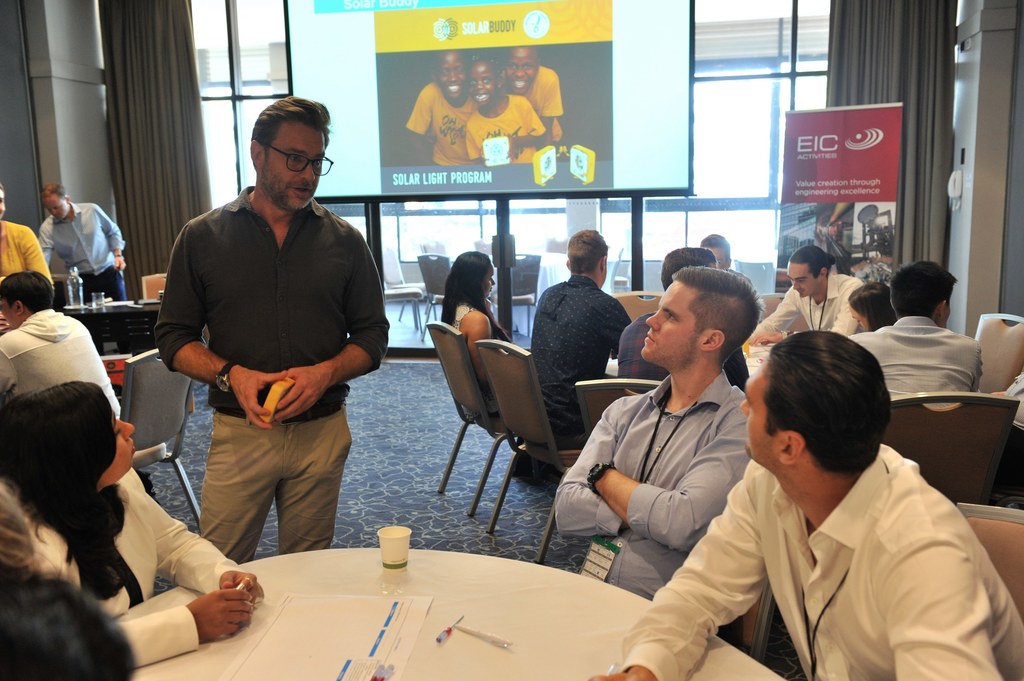 As part of the Graduate Program induction, EIC Activities hosted a session for the current cohort of 220 graduates, introducing the concept of social innovation. The session also demonstrated how working as a team, to put an innovative idea into action, can help to tackle a global challenge and make an important difference. The graduates were introduced to SolarBuddy, a registered Australian charity which aims to help improve - by 2030 – the educational opportunities of 6 million children living in energy poverty throughout the South Pacific, South East Asia and Africa.
The charity helps by providing children with a SolarBuddy solar light to study with after dusk. The CEO of SolarBuddy, Simon Dobble, spoke to the graduates about energy poverty and renewable energy, and joined the graduates in building 220 SolarBuddy lights which have been distributed to a community living in the Asia Pacific region.
Mine truck decorated with Aboriginal wall paintings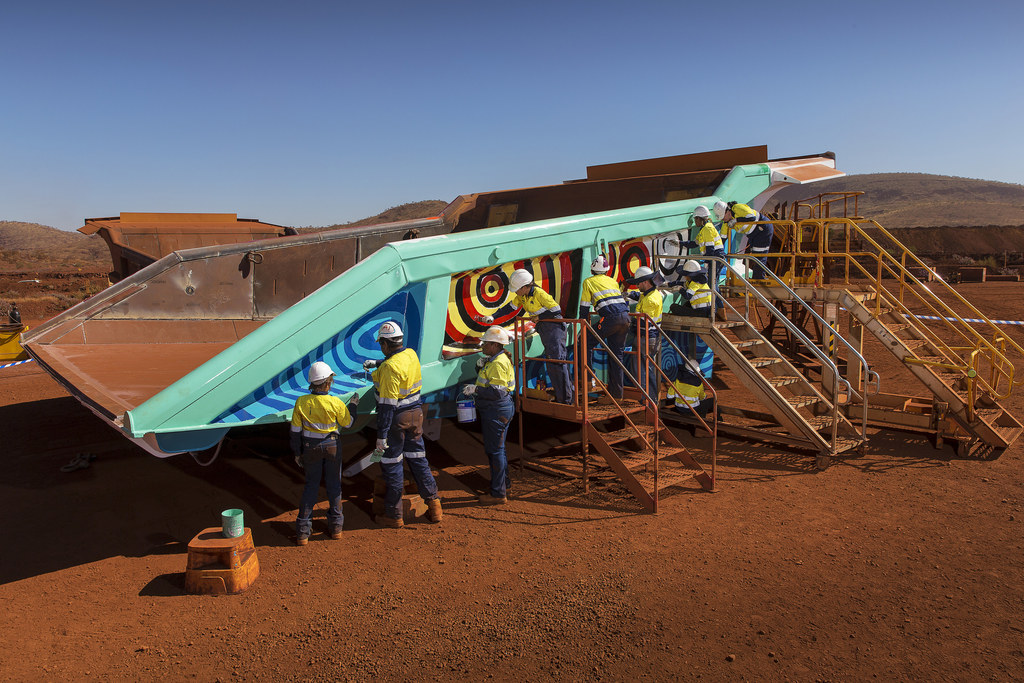 Thiess, in collaboration with Fortescue Metals Group, welcomed ten art students from Roebourne District High School to Fortescue's Solomon operation to complete an Indigenous mural on the rear tray of an autonomous haul truck. Measuring 2.9 meters high and over 8 meters wide on each side, the mural extends to both sides of the tray and depicts Roebourne's Mount Welcome lookout and the rivers and streams running through the Western Australian town.
Thiess General Manager in Australia & Pacific, Spencer Jose said: "We're proud to be partnering with Fortescue and the local community to deliver this incredible piece of moveable art. The murals on the truck work together to represent the past, present and future generations of Roebourne. This innovative initiative is enhancing student's studies, allowing them to apply their research, technical skills and creative ideas to a real-life project." The painted haul truck re-entered operations in August 2017.
Teddy bears for young patients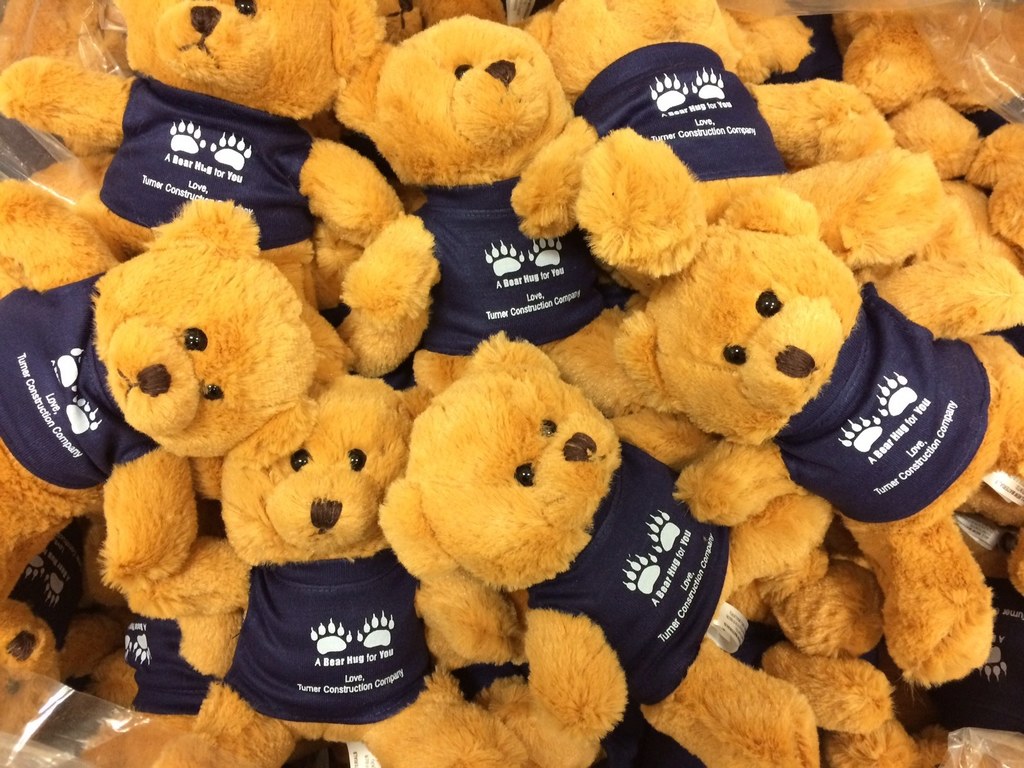 HOCHTIEF company Turner Construction's community management also looks after the youngest members of the community: the construction team at the new John R. Oishei Children's Hospital at the Buffalo Niagara Medical Campus in the state of New York donated more than 200 teddy bears for young patients on the occasion of the hospital's completion. The bears—wearing T-shirts with the words "A Bear Hug for You" on them—are a surefire way of cheering the children up.